Multiplayer more stable than ever! Asteroidians Release 0.3.0.27
---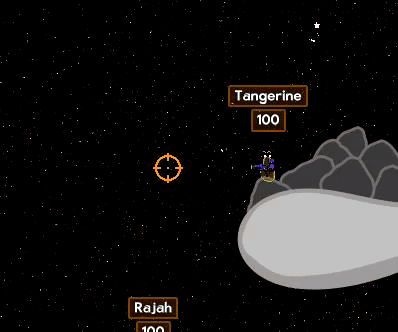 It's been another year of solo development. Major networking improvements. It's still spotty but it's more stable than ever!
Some changes for release 0.3.0.27:

Gameplay:
New weapon: Air strike - Death from above!
New weapon: Punch
Characters can now "Cascade" into each other (See image)
Characters can no longer "shove" each other by jumping
Added fall damage
Increased gravity by double - everything feels less floaty
Flamethrower fire now sticks to the ground instead of eating it.
Pomegranate bomblets now bounce on the ground
Character graves now behave properly
Aesthetic:
Added sound, including music! Change this in the options menu.
New wind particles
Removed "Star" floor visuals. This will come back eventually.
Backend improvements:
Lots of determinism improvements
Migrated away from Unity's legacy networking.
Multiplayer now uses a server executable.
Major performance boost from disabling some data debugging
Physics performance boost
Workflow tools for weapons, physics presets, and more
Unfortunately, getting a solid backend right has been my primary focus, along with multiplayer functionality. I'm having trouble reproducing some multiplayer desync bugs. Hopefully I'll figure this out.
At some point, I'm hoping to be able to hire a few other developers to help in the areas that I'm struggling with. As of now, I cannot afford it. If you can, consider donating?
Files
Asteroidians Alpha Windows
29 MB
Version Alpha v0.3.0.27
Aug 07, 2019
Asteroidians Server Windows
263 kB
Aug 07, 2019