Level Generator + More! Asteroidians Release v0.4.0.125
---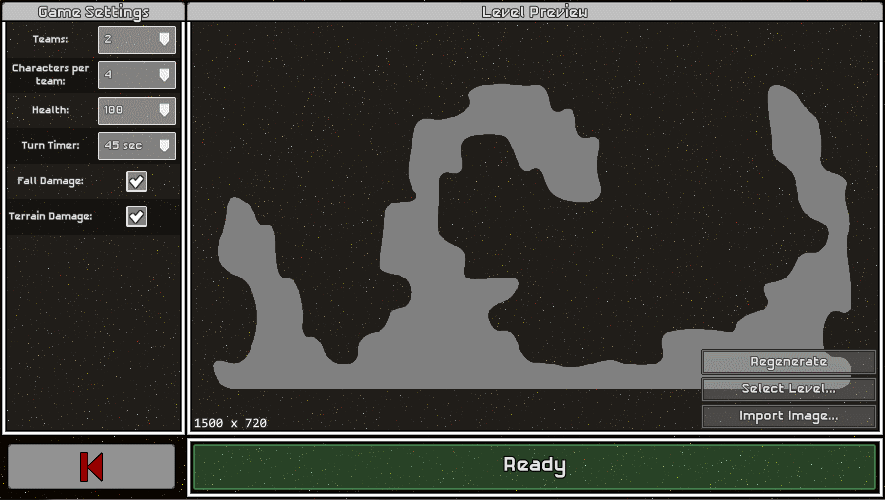 Release 0.4.0.125!
Apparently I'm making a habit of yearly releases. Better late than never though? This version I am very excited to announce a built-in random level generator! Unfortunately I haven't figured out a good way to paint the generated levels yet. I have also spent a good chunk of time polishing front end!
Gameplay:
New Weapons

Rocket Jumper - Utilize explosions as mobility!
Cycler - Change your active character!

Overall increases to game speed and gravity forces.
Grapple hook now uses mouse to aim. Let me know what you think of this!

Grapple hook physics tweaks.
Grapple will now reset any pending fall damage.
Character sliding now better respects slopes: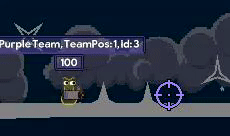 Characters now explode when they die, and can hurt other characters.
Can now move the game camera while holding Right or Middle mouse buttons.
UI now tells you how many uses the current weapon you're using has left.
Visuals:
New weapon sprites for: Mine, teleporter, air strike
Rifle weapon now leaves a tracer trail, to let you better adjust your next shot.
New randomly placed background elements with parallax (planets, city scape, clouds)
Reduced visual intensity of wind particles.
Added health-loss animation to character nameplates
Added shrinky-death animation.
Camera will now pan to the above two events.
Clicking on character health bars (above the timer UI) will pan the camera to that character.
Lobbies & Menus:
Reworked almost all UI project wide in order to be a consistent visual theme.
Lobby Level Selection:

"Built-in" level selection menu (Singleplayer and Multiplayer)
Reroll randomly generated level button (Singleplayer and Multiplayer)
Level Import button (Singleplayer only)
Fixes:
Non-QWERTY keyboard layouts are now finally supported for keybinds!
4k resolution monitors no longer display everything super tiny.
Fixed game messages not appearing at proper size.
+ Countless more!
Backend:
Unity Engine Upgraded to 2019.4.12.
Added in-game developer console, which can be accessed with the tilde key (Just under Escape key) Use at your own risk!

Removed various keybinds in favor of console commands.
+ Countless more!

Files
Asteroidians Windows v0.4.0.125
31 MB
Apr 30, 2021
Asteroidians Server Windows
157 kB
Apr 30, 2021